How to install the Crown Sterling App on your Windows® device
Installation Prep
Prior to installation, make sure your computer is updated and running on the most recent operating system. For more information on how to do this, please click here:
Installing the Crown Sterling App
Download the app
App Download Link

2. Go to your downloads folder.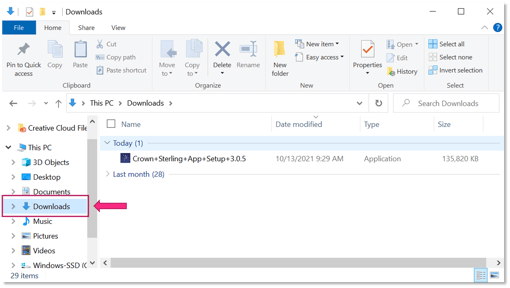 3. Double click the file that was just downloaded to your computer.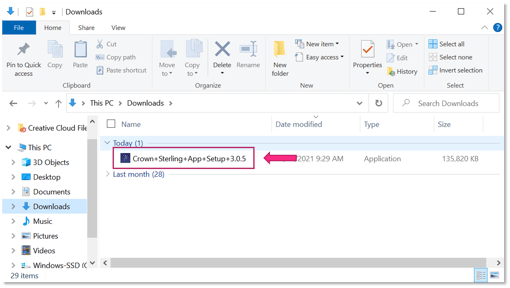 4. Click I Agree on the terms and conditions.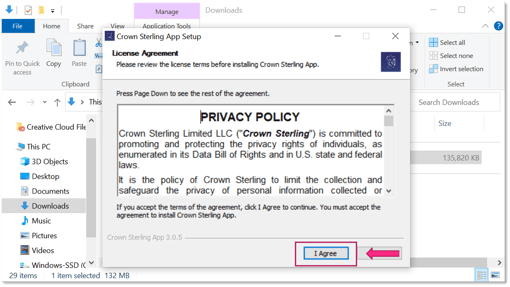 5. The Crown Sterling app is now installed on your computer!

6. Open the app, and then you can continue on to register your account.

In order to utilize all the features on the Crown Sterling app, you will need to install Docker®. Continue below to learn how to install Docker® on your device.
Docker® Installation
To use the Crown Sterling app on your computer you will need to have Docker for Desktop. You can download and install Docker for Desktop at the following link:
Click the Download for Windows button.
Save the Docker executable file.




Click the file that you just downloaded. It will most likely be in your downloads folder.
Click Yes to allow the app to install.




Click Ok to continue installation.




After installation is finished, click Close and restart.


This will restart your computer to finish Docker installation.





Once you have finished installing, launch Docker Desktop if it is not already running, by double clicking the new Docker Desktop icon on your desktop.



PRO TIP: Go into settings in the top right hand corner & make sure the box that says "Start Docker when you log in" so the app stays running in the background. You can now close out of or minimize Docker® and it will run in the background!


If you already have the Crown Sterling app downloaded and open, return to the app and refresh the Mail Tab by clicking command and R. Your screen should flash and the mail tab will load.


Want to learn more about the App?
Check out our Navigating the App page for 'FAQ' and 'How to' articles!